by Kyle Ferris, La Crosse Tribune (AP) — 12.1.2018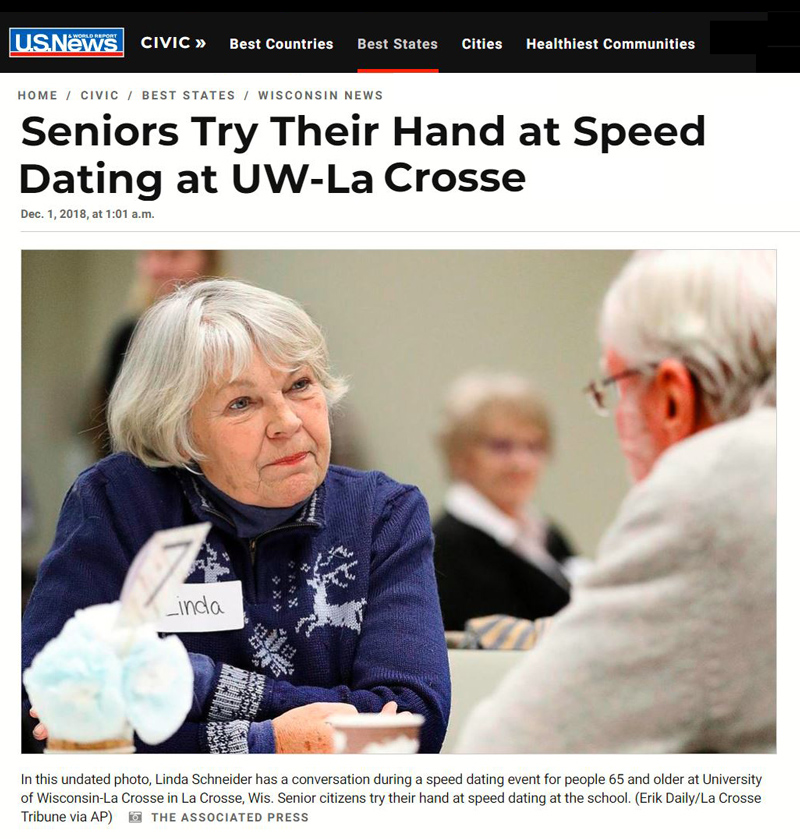 (Part of national coverage of Dawn Norris's sociology class at the University of Wisconsin-La Crosse, where students screened The Age of Love, then organized a community-wide senior speed dating event as their semester project.)
ELVIS AND SINATRA SANG SONGS ABOUT LOVE.
Couples played with their coffee cups, exchanging shy smiles.
And, for a moment, the third floor of UW-La Crosse's Student Union resembled some forgotten cafe, a picture cut out of the past, hung up in the present.
"Most places that people go to meet each other are designed for young or middle-aged people," said sociology professor Dawn Norris, who with the help of her students organized a speed dating event for the area's senior citizens.
"It's really sweet to see them connect," sociology major Angela Steffens told the La Crosse Tribune . "Not necessarily for love, but for friendship, too."
More than two dozen seniors rolled up to the university in their Sunday best on Wednesday — the women with lipstick and made-up hair, the men in jackets and sweaters, a boyish twinkle in their eyes.
"I heard about it this morning and came on a whim," said a man who asked to be called Pete King, a fake name. King said he was single and ready to find his queen.
"It does get harder to meet people as you age," he said. "I've been looking, tried dating sites and all that. The trouble is, when you're older, you're just so set in your ways."
Couples were given five minutes to talk with each other, to discuss the weather, or current events, or how the Beatles wrote songs far, far better than the ones on the radio.
At the end of the five minutes, a bell would ring. The couples would fill out a scorecard, grading the date, and decide if they're open to spending more time together. Then the women in the room would move on to the next table, the next date.   Continue Reading