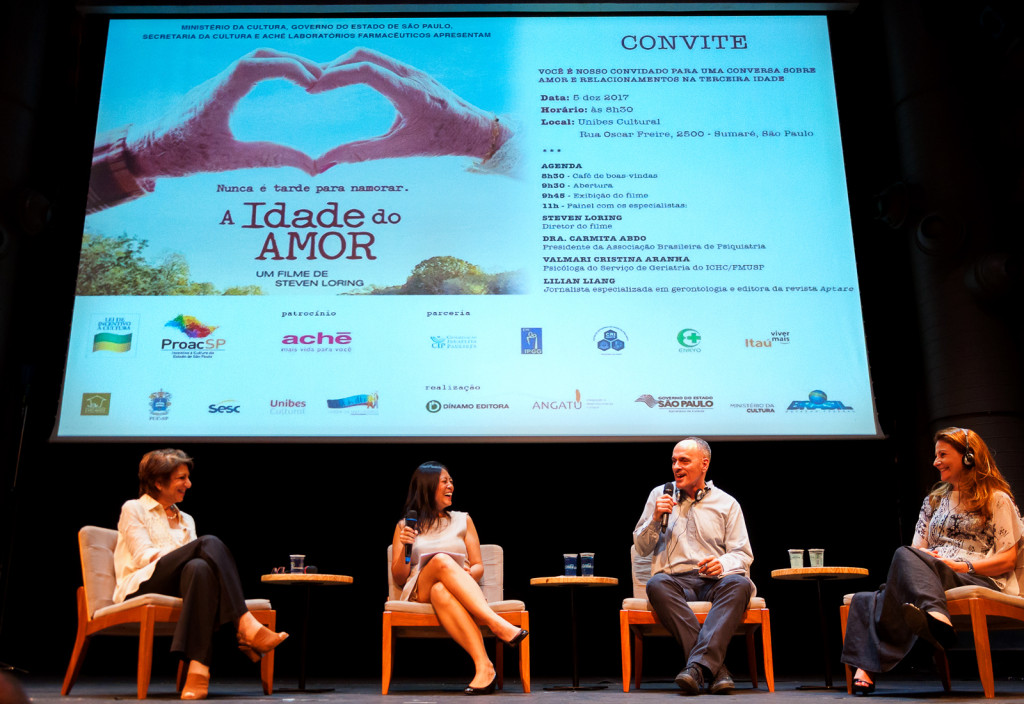 With support from over a dozen sponsors, led by
Revista Aptare
(see pp. 30-35) and Aché Laboratórios,
The Age of Love
was presented in 11 neighborhoods throughout metro São Paulo this December, with the aim of sparking a nationwide discussion in support of the hearts and hopes of Brazilian elders.
From low-income senior centers to renowned universities, from an urban multiplex to the largest Jewish synagogue in South America, the film played to a wide, cultural cross-section of this economically and ethnically diverse city of over 12 million inhabitants.
The response, from each segment of a society in which life expectancy is rapidly growing – while programs addressing loneliness and connection for seniors are few – was intrigue and the demand for more opportunities and wider attention to the social and emotional growth of the country's aging population.
Joining the conversation at our final screening at Unibes Cultural – a main hub of culture, creative entrepreneurship and social issues in São Paulo – was one of Brazil's leading psychiatrists and sexologists Dr. Carmita Abdo, who answered questions from the full house of healthy aging professionals, together with psychologist and geriatric specialist Dr. Valmari Aranha, the publisher of Revista Aptare Lilian Liang, and the film's director Steven Loring (many thanks for the simultaneous translation!).
In each of the 14 countries in which The Age of Love has screened, the call for more attention to the emotional needs of elders has resonated. Regardless of culture or race, religion or gender, we all experience the emotional losses that aging brings. It's clearly time, as demographics rapidly shift and every society faces these issues, to reject stereotypes of aging, and to redefine our attitudes, policies and programs.
With thanks to the people of São Paulo! How exciting to watch the film resonate in your city and inspire a new understanding of the importance and endurance of love….