By GILLIAN MOHNEY, via Good Morning America, 11.14.2014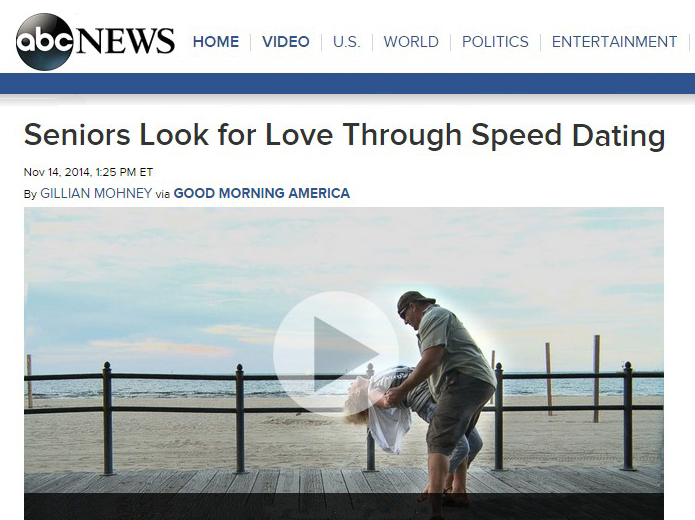 MANY OF JANICE LEDTKE'S FRIENDS THOUGHT SHE HAD LOST HER MIND when the 78-year-old New Yorker decided to try out speed dating.
"My friends said, 'What, are you crazy? Why would you do that?'" the Rochester woman recalled. But at her age, Ledtke said she finds it harder and harder to meet new people.
"I'm kind of a bit adventurous and I thought that was a new adventure," she said of trying out speed dating.
Ledtke wasn't the only senior in town looking for love and companionship. At least 29 other people signed up for the speed dating event.
All the subjects were followed in a new documentary called "The Age of Love." Directed by Steven Loring, the film follows all 30 seniors as they try out speed dating at a special event designed solely for those between the age of 70 and 90.
The film was inspired by Loring's seeing an elderly uncle fall in love for the first time at 79. Loring followed the seniors for months as they prepared to try out speed dating. For some, the event would be the first time they had been out on a "date" with a new person in decades.
"Everybody just came to life," Loring said of the subjects as they prepared for speed dating, some with the same worries about dating as people half their age.
"The idea of 'What if I'm rejected? How do I look? What if they find me boring?'" Loring said of common worries.
Dr. Phillip Dines, medical director of Geriatric Psychiatry at University Hospitals Case Medical Center in Cleveland, said when people lose a partner they may want to immediately search for another person to have companionship and love in their lives again.
"This is a very significant issue," Dines said. "They want to have meaning in their life."
But Dines says he warns his patients to be thoughtful in how they go about meeting new people and dating, especially if they just lost a lifelong spouse or partner.
For Ledtke, she was able to get three dates from her first round of speed dating and said she's happy she tried it out. "You know, five minutes isn't very long, but it's amazing what kind of a judgment you can make," Ledtke said. "There were a lot of really great guys there."
As for details, she didn't want to elaborate more on what happened. "I don't want to take the mystery out of the movie," she said.