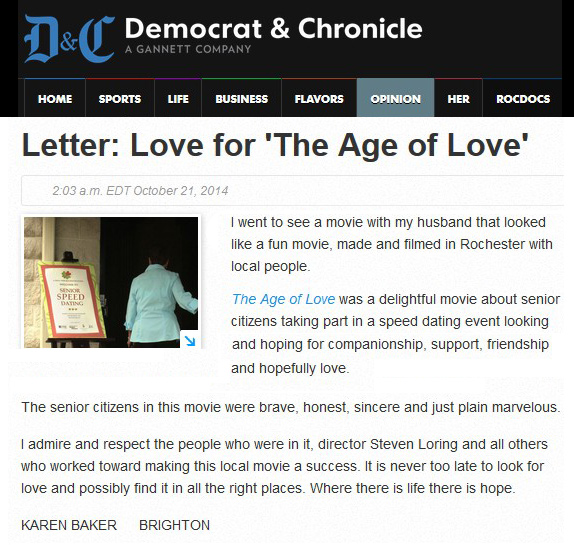 TODAY'S THANK YOU NOTE IN THE DEMOCRAT & CHRONICLE was the icing on a phenomenal, multi-layered, week-long homecoming of THE AGE OF LOVE to Rochester.
Starting with interviews with Maureen McGuire on News 8 WROC-TV and with Rachel Barnhart on NewsRadio WHAM 1180, we then visited Nikki Rudd on WHEC-TV News at Noon, interviewed on 'Morning Edition' with Beth Adams on WXXI, on 'Healthy Friday' with the amazing Elissa Orlando and sat down with Hélène Biandudi Hofer for a chat on WXXI-TV's 'Need to Know' program, which will be aired in the coming months.
On the print side, we had amazing reviews from Adam Lubitow at Rochester City Newspaper and from Erich Van Dussen, film critic for Messenger Post Newspapers, as well as an insightful cover story in The Brighton Pittsford Post.
Interest in our two screenings, at The Little Theatre's 300-seat main screen, was beyond all expectations, with both shows selling out hours in advance. So I extend an invitation, for anyone turned away at the box office, to come see the film at one of our many Rochester-area screenings planned for Valentine's Day. Just check our Screenings page for regular updates.
For participating in our 'Dating After 60' panel discussion, my thanks go out to Bill Armbruster of AARP New York, Theo Munson of Lifetime Care, Rebecca Priest of St. John's and to one of my very first advisers on this project, Cindy Steltz of Lifespan (hi to her mom and Rusty!).
And it goes without saying that our screenings, panel, reception, posters and programs and general sense of merriment would not have been possible without the encouragement and generosity of our nine, forward-thinking sponsors: St. John's, Lifespan, MVP Healthcare, Canandaigua National Bank, Hart's Local Grocers, WXXI, AARP of New York, Restaurant 2 Vine and The Little Theatre. I hope everyone who enjoyed the screening will support these organizations whose support made this past week happen.
Most of all, though, my thanks go to the exceptionally brave speed daters, all of whom allowed me into their hearts and lives, trusting my commitment to tell a story the way it needed to be told. I hope, as they all watched themselves up on screen for the first time, that they realized just how much love and pride I feel for every one of them.
And finally, to every audience member (and everyone who stood in line in the rain trying to get a ticket!), please keep the movement growing. Ask friends and family across the country to like the film on Facebook, and then remind them to join us next month at the Cucalorus Film Festival in Wilmington, NC on 11.13, at DOC NYC in New York on 11.15, and at the St. Louis International Film Festival on 11.19.
And please (!) tell everyone you know involved in a community organization to book the film for their group on Valentine's Day 2015, both to help us break the World's Record for a one-day documentary screening audience, and to bring media attention to the hearts and desires of seniors through a film that celebrates the universality of love and desire, at any age.
— Steven