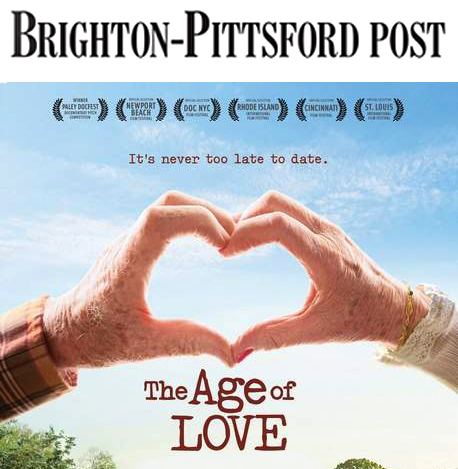 WHEN SCREENWRITER AND BRIGHTON NATIVE
Steven Loring set out to make his first documentary film, he chose a topic close to home. Not only that, but he actually left Brooklyn to come home to Rochester to film it. The result, The Age of Love, a comedically poignant look at how our hearts evolve as we grow older, will have two screenings at The Little Theatre on Oct. 18.
The documentary follows the adventures of a group of pioneering seniors who sign up for a Rochester-wide speed dating event exclusively for 70- to 90-year-olds. Spurred to take stock of aging bodies and still-hopeful hearts, they soon discover how dreams and desires change—or don't change—from first love to the far reaches of life.
"I'd ended a somewhat unfulfilling decade writing movies for TV and was looking to tell stories about real life that I felt passionate about," Loring says. So he enrolled in the MFA Social Documentary film program at NYC's School of Visual Arts and went in search of a thesis topic.
"My dad had recently passed away, and my mom, nearing 70, was left without an intimate emotional partner for the first time in her life. That same year, an uncle who'd never married or even dated suddenly met an 80-year-old woman, and they fell madly, adolescently in love."
Searching the media for insights into the older heart, Loring instead found dated stereotypes, leftovers from an era when grandparents lived to 70 and were expected to spend their time in rocking chairs.
"Here I was, an unmarried, middle-aged filmmaker, confronted by older family members with active, searching hearts. So, when the opportunity came along to film a group of WWII-era speed daters, I thought, what better window into the hearts of that generation?"
While those who signed up were typically-overlooked seniors with ordinary suburban lives, what emerged from three months of filming was anything but ordinary. Among the featured speed daters is a grandmother who spends nights trolling the Internet for hookups, a never-married 75-year-old who wonders how many dates before you can sleep with someone, and a widower with an oxygen tank and hearing aid who's determined to share romantic sunsets with a new soulmate.
The film follows several participants into the event, watches as they tear open their results envelopes, then tags along on first dates to see how the lucky couples' hopes play out.
The film is about older adults, but, says Loring, "I didn't set out to make an inspiring film for seniors. It's really about the feelings that tie us all together, how the need to be seen and understood by another person is not just for the young, but continues to drive and empower us over a lifetime."
As the film makes its way through the festival circuit, its aim is to start a new conversation in our youth-driven culture. The national community screening kickoff is set for Valentine's Day, 2015, and Loring is working to set up 500 screenings across America on that day and bring the film to as many as 40,000 people.
"I want everyone to be asking, 'Do you know what your grandparents are thinking about today'," Loring says, "and then start to see that our new old generation haven't changed very much inside. I mean, 18 or 80, we all know what it's like to search for love."
For information on The Age of Love, go to theAgeofLoveMovie.com. For tickets to the Rochester premiere screenings at 2 and 6:30 p.m., go to http://thelittletickets.org/boxoffice.