by Connelly Hardaway, Charleston City Paper reviewer, 4.29.2016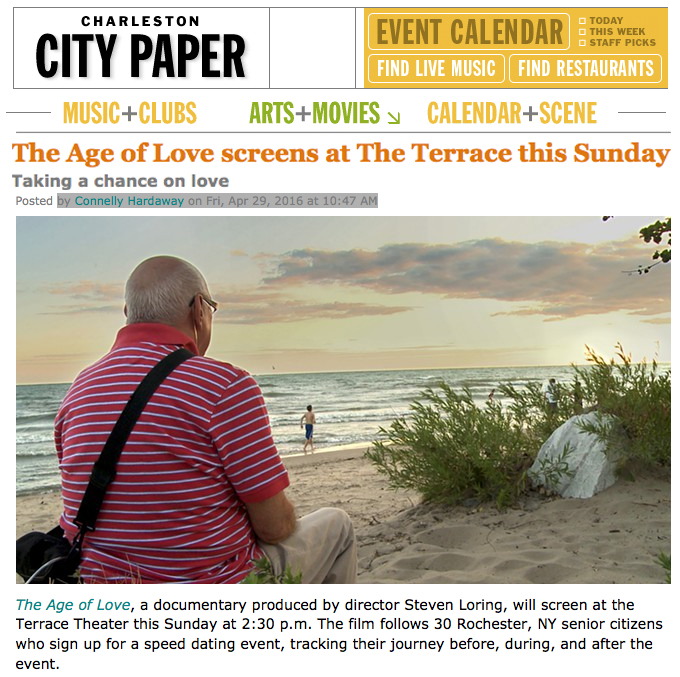 THE AGE OF LOVE, A DOCUMENTARY PRODUCED BY DIRECTOR STEVEN LORING, will screen at the Terrace Theater this Sunday at 2:30 p.m. The film follows 30 Rochester, NY senior citizens who sign up for a speed dating event, tracking their journey before, during, and after the event.
"It's very much a personal journey," says Loring of making the film. "It's about launching an investigation into something that's important to you." Loring first started to think about senior citizens and love when he watched his mother struggle with her identity after his father died.
"You still feel so young inside," he says. So when he heard about a speed dating event for seniors ages 70-90, he knew he had to explore the possibilities of older people falling in love. "There's an assumption by society that falling in love [when you're older] is cute. But it's real," he says.  
The documentary starts with Loring interviewing men and women before they head to the speed dating event. We meet Lou, an 82-year-old body builder, who breaks his life up like this: "In your first 25 years, you get to know yourself. In your next 25 years, you're probably going to get married and raise a family. What are you gonna do with the next 25 years you have left? Are you gonna waste it, or are you gonna do something with it?"
There's Matt, a guy who loves to dance and watch the sunset, and who doesn't let his oxygen tank keep him from doing either one. There's Donna, who pours a Coors Light into her coffee mug that reads "Grandma," and sits down at her computer, showing how she likes to meet guys online. "You can be anyone you want online," she says. "You don't have to be yourself."
Each dater is a real live human — someone with wants, needs, desires, and dreams. Loring captures this in a tremendously effective way, showing the women struggling with picking out their outfits, zooming in on the men trying to decide what to say next. These aren't "old people." They're just people.
"It's not a documentary about growing old," says Loring. "It's about what doesn't change." He says that when he first called the daters up to see if they'd be OK with him filming their journey, he was surprised by how many readily agreed to talk to him. In the end, all 30 daters signed the release to be filmed. One woman told him, "I'm invisible in the world, besides social security and digestive aids." These men and women wanted their voices to be heard.
The film is at times hilarious, often a little heartbreaking, and consistently sincere. You become a cheerleader for these men and women, falling in love with their maybe-love, their slow-love, their wishing and hoping for a someday love. Janice, who hits it off with Jon (the two even play a joke on Loring in one scene), says, "It's not so much looking to get married. It's just to have companionship and somebody to share experiences with."
And Loring wants his documentary to be a jumping off point for older people looking for love. He tries to hold a Q&A after each screening, and he's helped coordinate some speed dating events in different communities — 119 at last count. "You can bring change to peoples' lives," he says. "Their teenage sides, their young and hopeful sides come out."
Our bodybuilder Lou may not have found love from speed dating, but he hasn't give up on it. "I think people are scared to say, 'I love you.' But it's easy to say. If you feel it, why not say it?"