by Richard A. Marini, San Antonio Express-News, 7.1.2016
photo credit: Brittany Greeson San Antonio Express-News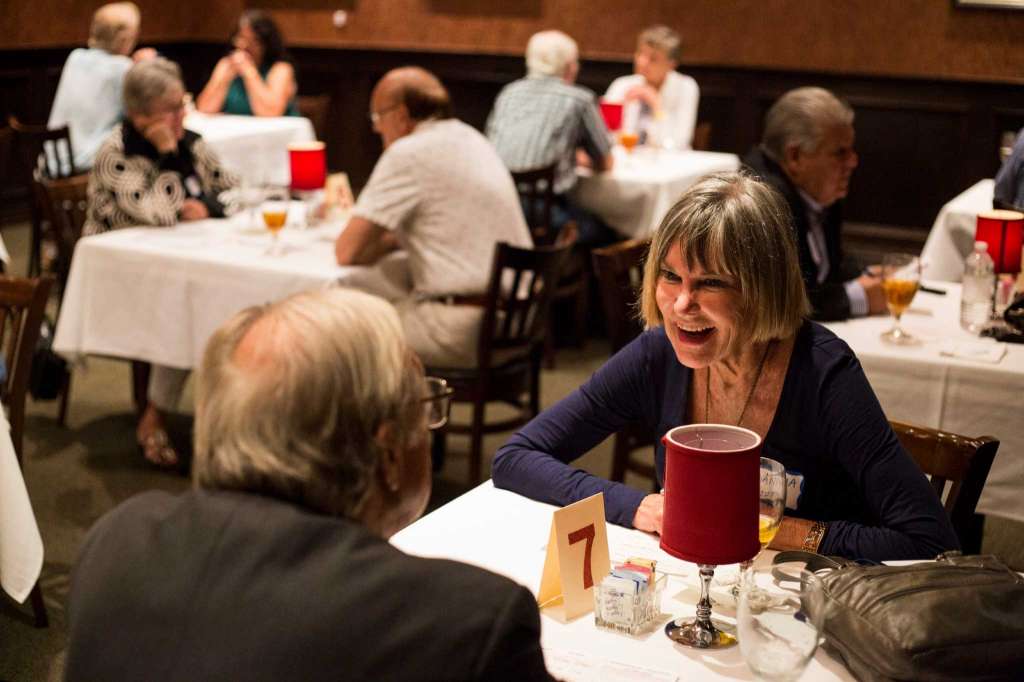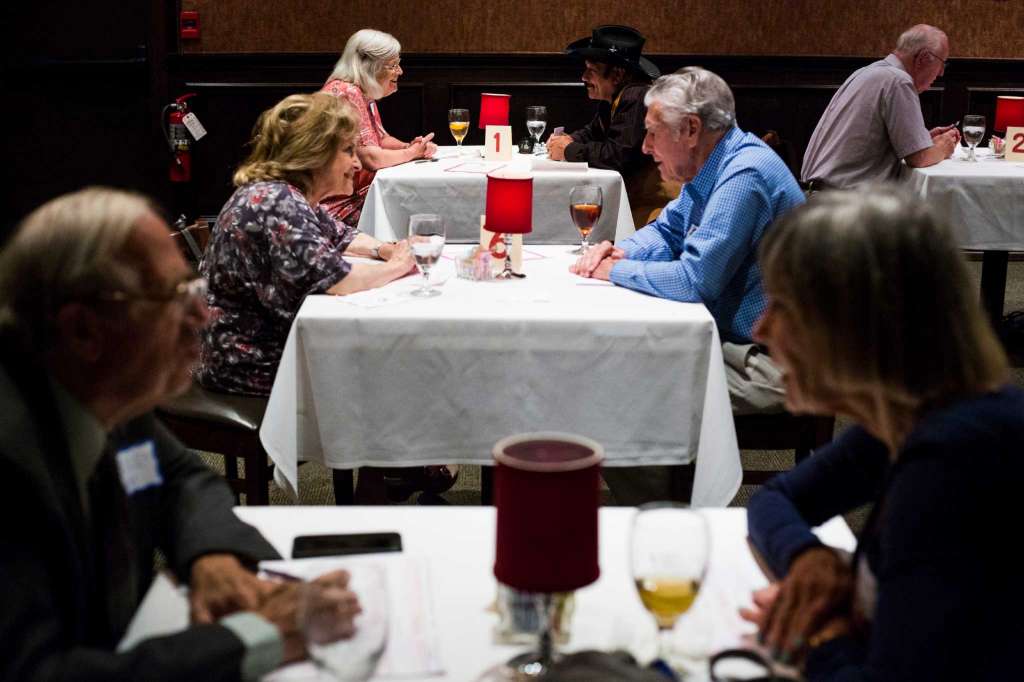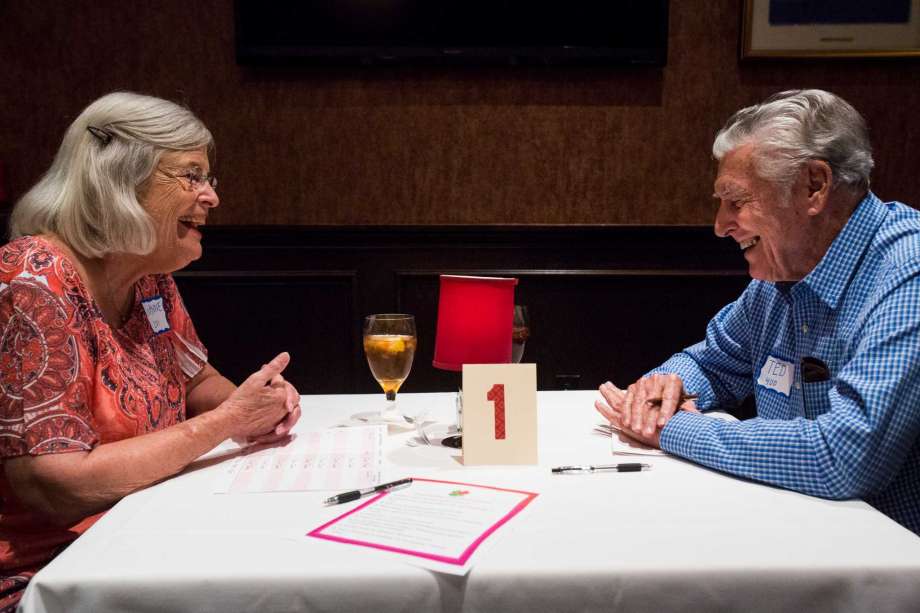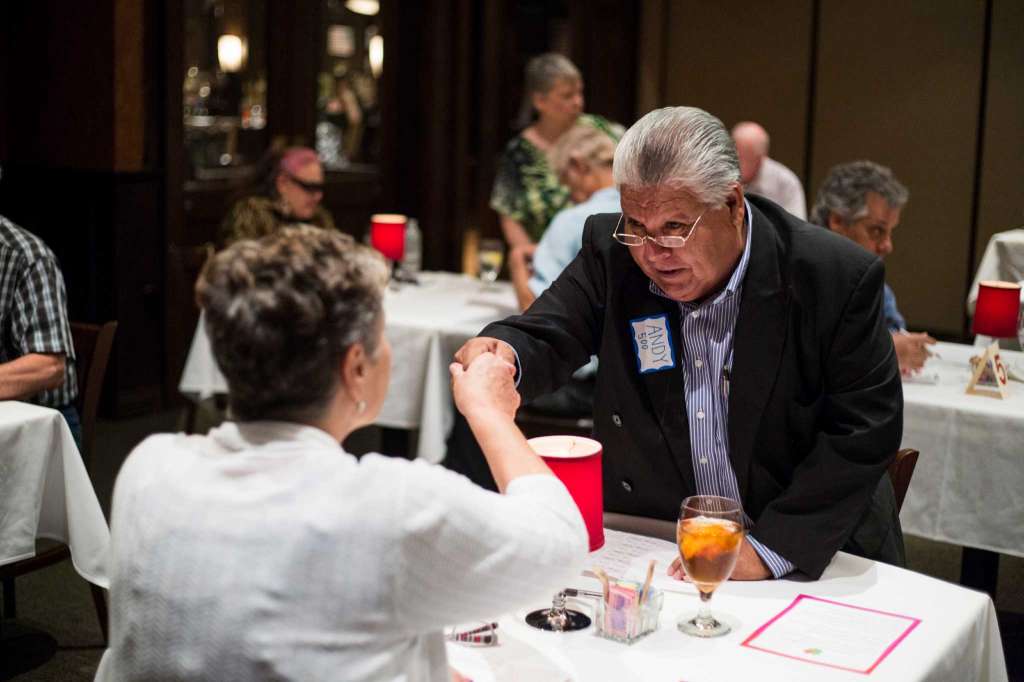 DATING AT ANY AGE CAN BE STRESSFUL, EXHAUSTING, EVEN HAZARDOUS TO ONE'S SELF-ESTEEM. Now imagine wading into the dating pool when you're past retirement age.
Indeed, fireworks are rare for those who date during their so-called golden years, especially for women, who significantly outnumber their male counterparts. To help right this imbalance, some seniors are borrowing a strategy from younger generations and trying speed dating in hopes of once again feeling that spark of attraction.
"It's hard meeting a man who's single," said Sandy Camero, 69, who attended a recent event at the Igo Public Library designed for seniors who wanted to meet new people. "They're either too old and don't ever want to do anything or, if they're my age, they're looking for someone younger."  
While we as a society often obsess over the physical needs of the elderly, we rarely talk about the emotional desires for friendship, intimacy, even love and sex that don't evaporate upon receipt of an AARP membership card.
"You'll hear a family say, 'But we fill grandma's time,'" said Kelley Kelch, who leads the Older Adult Ministry at Oak Hills Presbyterian Church. "That's great. But no one wants to talk about the other needs grandma might have."
In addition to her church position, Kelch also has hosted two senior speed dating events designed to help folks ages 65 to 85 meet one another for companionship and, perhaps, more.
Speed dating, for those who haven't been single and looking during the past two decades or so, is a formalized matchmaking process during which two people sit together for a limited amount of time, usually about five minutes, to chat, learn about one another and then decide whether they're interested in getting together at a later date. Once time is up, they move on to the next person. For older adults looking for companionship, speed dating offers a way to meet up to a dozen new people quickly and without commitment in a safe, controlled environment.
It's only recently, however, that seniors have gotten into the game, in part due to the release of the documentary "The Age of Love," directed by filmmaker Steven Loring. At once funny and poignant, promising and bittersweet, the film tells the story of a group of seniors age 70 to 90 who participate in a speed-dating event in Rochester, New York.
The documentary introduces us to single-and-looking seniors like Addie, a well-traveled free-spirit who terrifies her more strait-laced, would-be suitors; Lou, an elderly body builder moved to tears when he learns that only one of 15 women he'd "speed dated" wanted to meet him again; and Jon and Janice, who connect and hesitatingly form what promises to be something more than just a casual friendship.
At its most basic, the film's message is that hope, as they say, springs eternal. Or, as Addie puts it, "You still want to feel that touch, that excitement, that physicalness. You want to feel the butterflies."
Loring said he made the documentary to help spur a conversation about the overlooked emotional needs of older adults.
"I was inspired by watching my 78-year-old uncle fall in love for the very first time in his life," said Loring. He'd also watched his mom struggle with losing the love of her life when his dad died.
During Kelch's most recent event, nine women and eight men (the ninth man canceled at the last minute — doctor's appointment) met in a clubby dining room at Bob's Steak & Chop House in The Rim.
She had little difficulty filling all the spots. The nine reserved for women were snapped up almost immediately and she had to nudge only a few of the men to sign up.
"Apparently, word got around that senior speed dating can be fun," she said.
Jay Mummau attended for much the same reasons as most of the other participants.
"I want … how do I say it? … I want to love and be loved," said the 80-year-old while sitting at the restaurant bar waiting for the festivities to begin.
Dating is more difficult for seniors for a number of reasons, according to Joan Price, advocate for what she calls "ageless sexuality" and author of "The Ultimate Guide to Sex After 50" (Cleis Press, $22.95).
"Most young single people are surrounded by other young, single people, so they've got plenty of possibilities, plenty of people to choose from," she said. "But when you're older, however, you don't meet new people as regularly or as easily. And those you do meet are likely to be already paired off."
Demographics also play a role. According to 2015 U.S. Census data, in Bexar County there are approximately 1.25 women for every man age 65 to 84. Nationally the ratio is even more skewed, about 1.4 women for every man.
This imbalance played out when Irene Scharf recently tried to organize a speed dating event at the Igo Public Library in May.
"We had many more women than men signed up," she said.
Rather than canceling, however, she adjusted her sights and changed it to a speed connect event, for people to make friends rather than potential love connections. Several women, for example, agreed to get together when one offered to teach the others how to make Indian food.
Still, dating as a senior citizen affords certain freedoms.
"When you're older, a person's looks often don't play as big a part in their attractiveness," said Pepper Schwartz, Love and Relationship Ambassador for AARP. "And the same holds true for social class, religion, even race. So in that respect, there's a bigger pool to choose from."
At Kelch's speed dating event at Bob's Steak & Chop House, participants were seated two to a table. Kelch reviewed the rules — dates last five minutes, don't share personal information such as home address and phone number, etc. — rang a bell and the chatting began.
Despite any lingering doubts or nervousness, the daters' personalities quickly shined through. There was the spitfire, energetically chattering away with her often-overwhelmed male companions; the smooth-talking Texan, his honeyed voice enthralling female after female; and the warm, charming gent, healthy and hale, with a full head of hair telling impressive stories of building his own airplane and boat.
"Watch," whispered one observer, referring to this apparent catch of the day. "When he gets to their table, the women sit up straight, they smile they get more energy. He's very impressive."
After each five-minute date, the bell rang and the men moved on to the next table. Everyone had been given a paper scorecard on which they could indicate whether they wanted to get together with the person at a later date.
They also were repeatedly encouraged to make notes of each date on the scorecard's tear-off panel — the person's hair color, what they talked about and so forth.
"Write it down because when you get home you'll forget," warned Kelch.
After collecting the scorecards, Kelch matched couples who had picked one another. Within a few days, the participants received letters in the mail with the names and contact information for their matches.
Marie Rockne, 69, had five matches and quickly agreed to a first date of drinks and a movie with one gentleman.
There may not be a second.
"He pulled out a coupon for a free order of nachos," she said. "That was kind of embarrassing."
Still, she said, "It was fun. I'd be willing to try it again."
For information about future senior speed dating events, contact Kelley Kelch at SASeniorDate@gmail.com or via SA Senior Speed Dating Facebook page.