by Annemarie A. Smith, 3.27.2015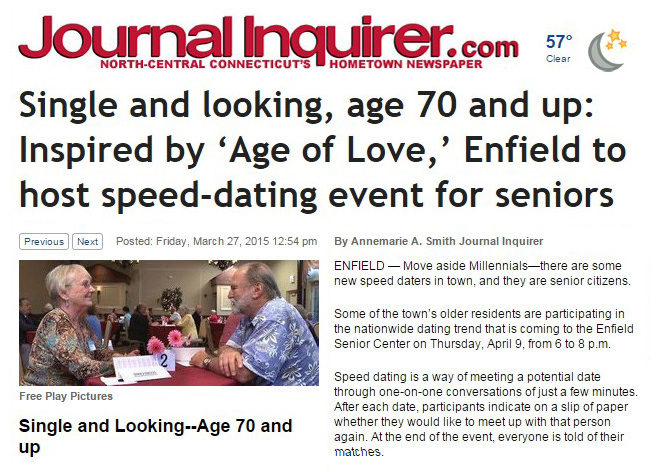 MOVE ASIDE MILLENNIALS—THERE ARE SOME NEW SPEED DATERS IN TOWN, and they are senior citizens. Some of the town's older residents are participating in the nationwide dating trend that is coming to the Enfield Senior Center on Thursday, April 9, from 6 to 8 p.m.
Speed dating is a way of meeting a potential date through one-on-one conversations of just a few minutes. After each date, participants indicate on a slip of paper whether they would like to meet up with that person again. At the end of the event, everyone is told of their matches.
Susan Lather, director of the senior center, was inspired to organize a speed-dating event after 150 Enfield residents attended the center's March 5 screening of "The Age of Love."
The film, by up-and-coming director Steven Loring, follows a group of 30 men and women in their 70s, 80s, and 90s in Rochester, New York as they explore the world of speed dating for the first time.
The film has been screened across the U.S. and has inspired a conversation about loneliness, love, and companionship in later life.
For Loring, a Hollywood screenwriter-turned-filmmaker, "The Age of Love" is the result of a personal investigation into issues that dominated his family life.
"My dad had recently passed away and my mom had no emotional partner in her life for the first time," Loring explains. "Then there was my uncle, who was in his 70s and had never been on a date. He met a woman and they became inseparable … There were so many questions swirling about me about age and hearts and desires at that stage in life."
As Loring dug deeper into the subject, he was confronted by a sea of mid-century stereotypes about the golden years.
"In the middle of the century you retired at 64, had a few golden years in Florida, and then you were gone," Loring says. Now, there is a whole generation of healthy, active human beings who are still eager to grow.
When Loring heard about senior speed dating, he knew he had found a lens through which to examine his thesis. As he reached out to the men and women who would become the film's subjects, he was pleasantly surprised by their eagerness to speak openly with him.
Loring remembers one woman who told him, "My children love me. They take me places and buy me things. They take care of me in every way they should take care of a parent. But even my children don't ask me anymore what is in my heart at this point in my life."
Loring probed their hearts and minds, and discovered that dating as a senior is both vastly different, and oddly similar, to dating at 16, 29, and 50.
What differed, of course, was that many seniors had spent their lives in close partnership with another individual.
"Most people," Loring explains, "define themselves by these partnerships. You are them and they are you. You bring a lifetime of loss and experience."
As such, speed dating for many of these individuals was not about getting married or even finding romance; speed dating was about finding someone with whom to go to dinner or talk about loss, someone to help dispel loneliness.
Nora Duncan, state director for AARP Connecticut, echoed Loring's findings. "Most folks will have been through any number of relationships by 70," she says. "The way they approach relationships is different … They want to have a good time. To find someone to share things with."
Despite the life experiences seniors bring to the speed dating table, they often have the same romantic ups and downs as a teen going on his or her first date.
Duncan describes a scene in Loring's film when a man, nervous about dating again, discusses his many health issues with his dates. Discussing health problems at any age, Duncan says, is a big "no."
Loring relates the story of one woman who told him, "When you are 25 you throw yourself on the stairwell and do it. Now I'd hurt my back!" Loring laughs at the anecdote that proves people desire intimacy at every age.
Perhaps the most important similarity, however, is that finding companionship greatly contributes to health and well being.
"People are healthier when they have a partner," Duncan says. "Companionship is a huge part of quality of life."
Lather hopes Enfield's first senior speed dating event will provide a way for local adults to improve their quality of life. It will be, she says, an opportunity to have a fun night out, meet new friends, and maybe even secure a date.
Still, Lather is struggling to find enough men to sign up for the event. Currently, she has a long waitlist of women hoping to try their hand at speed dating, but only nine men have registered for the fun thus far. In speed dating, she says, it is important to have even numbers of men and woman, and Lather hopes to attract 15 of each sex.
Loring says this phenomenon of more women registering for speed dating than men is actually quite common. "Men and women are socialized in different ways, especially in the older generations," he explains. "Women were the social animals and tend to do things in groups. They talk to each other and are always trying things out … Men are more isolated. Their social lives were arranged by their wives and now that they are alone they don't know or understand how to get involved in something like this."
Lather hopes children, grandchildren, and friends will encourage senior men in Enfield and surrounding towns to sign up for what promises to be a fun evening.
In the meantime, these speed-dating gurus have a little advice for Enfield's participants. Duncan says that speed dating is all about maintaining a good attitude. "You have to go in with a sense of humor and you've got to be honest," she says. It's the difference, she explains, between being excited by the matches made at the end of the event, rather than disappointed in matches that were perhaps not made.
"These things have their ups and downs, their comedies. If you approach it that way, you will come out the other side with some really interesting options," she says. She would give this same advice, she adds, to daters of any age.
Lather concludes with a challenge to her community.
"These men and women have a lot of life left and are engaged in the world still. They may have 25 years left … are they going to spend them alone?"
Lather welcomes men and woman age 70 or older to sign up for the speed-dating event. For more information, call the senior center at 860-763-7425. For more information on "The Age of Love" visit theageoflovemovie.com.