by Jennifer Wright, 4.25.2015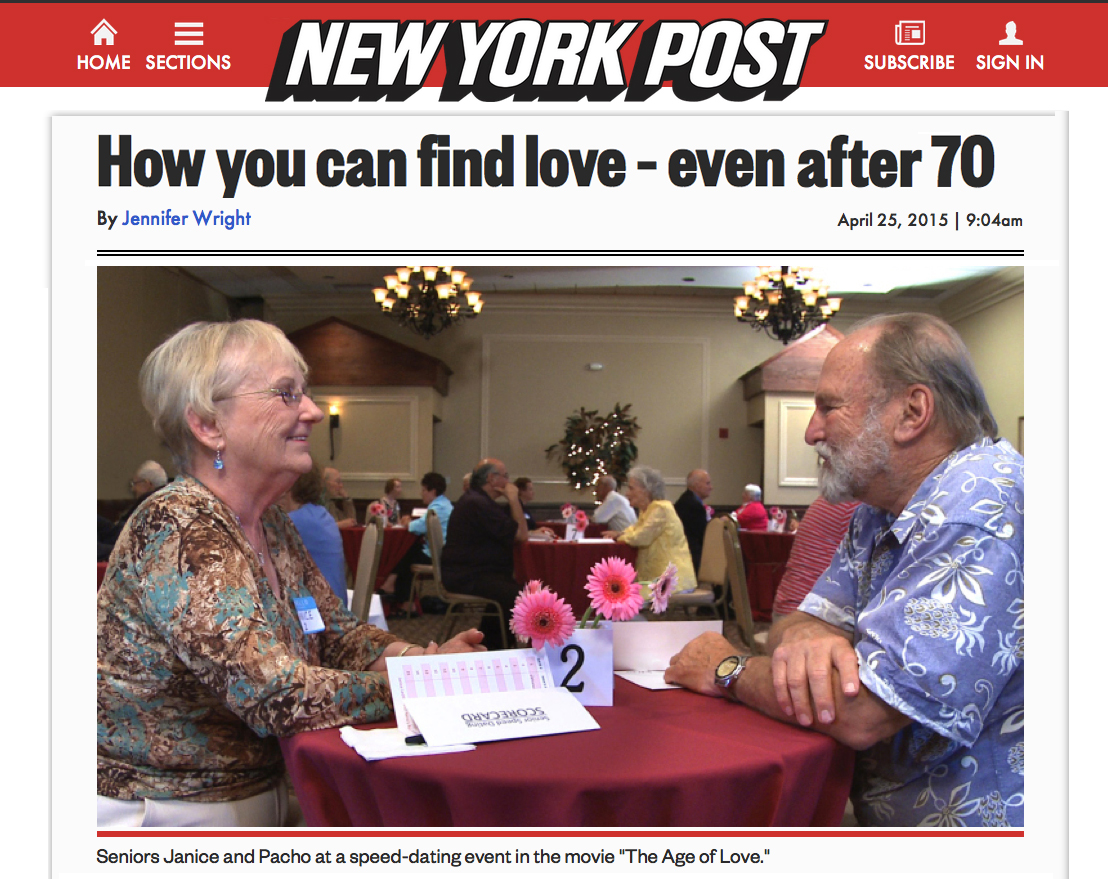 IF DATING AFTER 35 SEEMS DAUNTING, imagine dating after 70. That's the subject of the documentary "The Age of Love," which follows a group of 30 seniors in Rochester, NY, who sign up for a speed-dating event for those aged 70 to 90.
In the film, which will be screened for the public Thursday by Audicus at 447 Broadway in Manhattan, the seniors have to deal with the same anxieties about dating we all do — and some age-specific concerns, such as whether they can put aside their portable oxygen tanks to tango.
Director Steven Loring was inspired to make the film by his uncle's new romance at the age 78. Filming "The Age of Love" was, he writes on the documentary's Web site, "a unique chance to discover how age affects our desire to start over, to be held once again in someone's arms, to seek new companionship and affection."
It was also a chance to see which dating behaviors work in later life and which don't. We checked in with Loring and got some of his best tips for seniors re-entering the dating scene. Here's what he had to say:
• Leave your health issues at the door. They're not a suitable conversation topic. Don't give the impression you're seeking a caregiver — you can discuss your prostate later.
• Show your date that you're happy with who you are now, no matter your situation. One speed-dater with a portable oxygen tank got several dates because he showed true passion for life.
• Confidence is attractive at any age. You can't erase wrinkles or have a teenage figure, but you can make eye contact, ask engaging questions and exude vitality. As one speed-dater put it, "At this age, beauty is about being open and adventurous."
• Pay attention to your wardrobe. Single men who once left clothes-shopping and laundry to their wives should get advice on their attire. It may be your favorite sweater, but the stain will not score you points on a date. Be your best with someone new — looking good means you care about others.
• You don't need to introduce a new partner to your kids right away. Wait until it's serious. Your parents showed love by worrying about your future. Your kids show love by supporting what makes you happy now.
• Take your time entering into a physical relationship. Though time may be shorter, most older daters say they're in no rush. In your 20s, it was about hormones and social expectations. Now you're looking to share values and ideas with someone who sees you for who you are. It's no longer about "happily ever after" but about comfort and understanding, so slow and easy is best.
• Don't talk too much about your ex. Former partners will be mentioned, but don't go into detail. No matter how wronged you feel by an ex, your date will see you as a complainer. And if you extol the virtues of a former spouse, your date may fear never living up to the competition. Acknowledge your situation, but don't seem stuck in the past.
• Be willing to step outside your comfort zone. If your approach is outdated, shake things up. Both women and men should feel free to start a conversation, to make the first move. Plan a date that takes you somewhere you've never been. Taking a chance makes you more interesting and sets you apart from the crowd.