by Monique Threatt, Head of Media, Herman B. Wells Library, Indiana University — June 15, 2022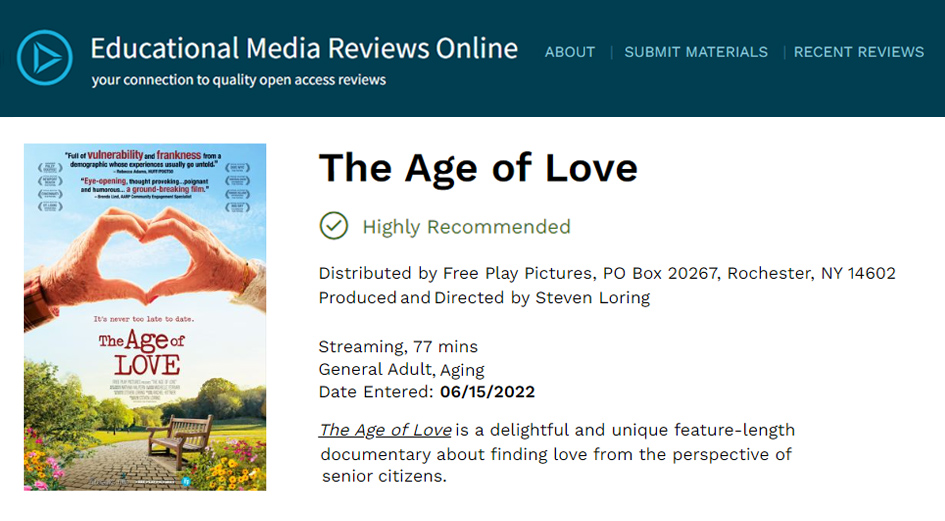 PUBLIC LIBRARIES CAN
ORDER THE DVD
NOW!
" ✓ Highly Recommended"
THE AGE OF LOVE IS A DELIGHTFUL AND UNIQUE FEATURE-LENGTH DOCUMENTARY about finding love from the perspective of senior citizens. The opening plays like a reality television show where 30 divorcees/widowers discuss their past love and relationship and are now hoping to start anew in their twilight years.
The documentary revolves around a speed dating event for people 70 to 90 years young in Rochester, New York, the first of its kind. Prior to and during the event, director Steven Loring spends time with the participants filming and interviewing them to learn about their motivations for dating, as well as their endgame from participating in a speed dating event.
Loring expertly interviews the participants with intimate questions which reveals that dating in the 70s and 90s isn't that fundamentally different than how the dating scene works for people in their 20s and 30s. Continue Reading