by Amy Phariss, OutreachNC — February, 2019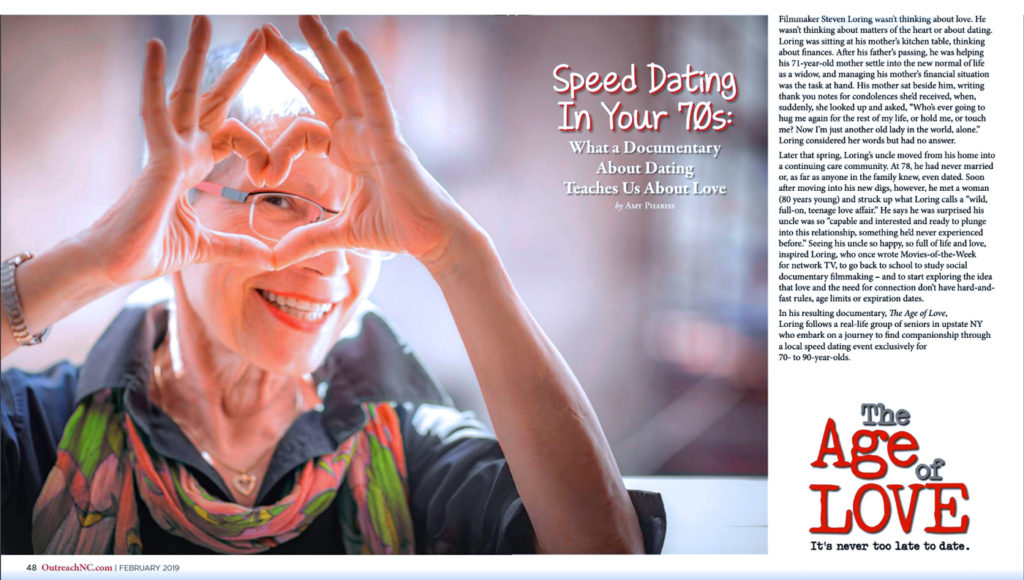 FILMMAKER STEVEN LORING WASN'T THINKING ABOUT LOVE. He wasn't thinking about matters of the heart or about dating. Loring was sitting at his mother's kitchen table, thinking about finances.
After his father's passing, he was helping his 71-year-old mother settle into the new normal of life as a widow, and managing his mother's financial situation was the task at hand. His mother sat beside him, writing thank you notes for condolences she'd received, when, suddenly, she looked up and asked, "Who's ever going to hug me again for the rest of my life, or hold me, or touch me? Now I'm just another old lady in the world, alone." Loring considered her words but had no answer.
Later that spring, Loring's uncle moved from his home into a continuing care community. At 78, he had never married or, as far as anyone in the family knew, even dated. Soon after moving into his new digs, however, he met a woman (80 years young) and struck up what Loring calls a "wild, full-on, teenage love affair." He says he was surprised his uncle was so "capable and interested and ready to plunge into this relationship, something he'd never experienced before."
Seeing his uncle so happy, so full of life and love, inspired Loring, who once wrote Movies-of-the-Week for network TV, to go back to school to study social documentary filmmaking – and to start exploring the idea that love and the need for connection don't have hard-and-fast rules, age limits or expiration dates.
In his resulting documentary, The Age of Love, Loring follows a real-life group of seniors in upstate NY who embark on a journey to find companionship through a local speed dating event exclusively for 70- to 90-year-olds. Continue Reading